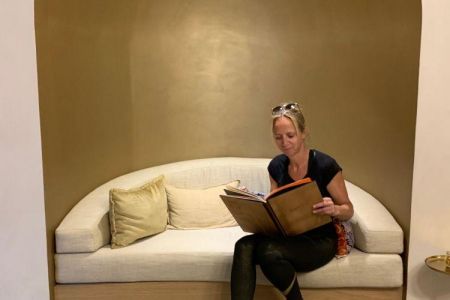 Floortje Dessing and her Euphoria Retreat experience
When I speak to her, Floortje is just about to head to the Middle East for a trip to war-torn Yemen with the Red Cross. She has just returned from a week off at the Puurenkuur destination spa,
Euphoria Retreat
in Greece. "My life is always hectic and full. I was in the middle of all these safety protocols and courses, and felt the need to just prepare myself mentally, somewhere quiet." As a travel expert, Floortje introduces us to some unique corners of the world. What many people aren't aware of, however, is that she also produces her own TV show. In addition, she runs her own publishing company and a camping site. On top of that, she has a busy social life. It's rare that she ever has a 'proper' holiday – when she's travelling, it's usually for work. "I just really needed to reset. Go offline for a week."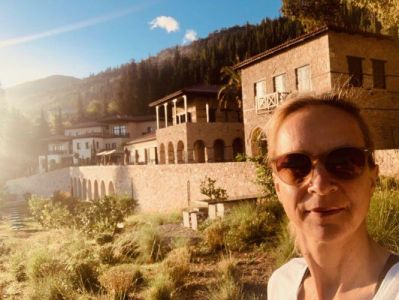 Why Greece?
"I wanted to go somewhere where there wasn't a time difference. I hadn't been to Greece for a while. Traditionally, the Greeks live very healthily. I once interviewed people on the little island of Icaria. People there get ancient. It's fascinating! Greece is often depicted negatively in the news these days. But the country is about so much more than just economic malaise. It's an ancient civilisation. And the Mediterranean lifestyle is so healthy."

How healthy are you yourself?
"I live very healthily: don't smoke, rarely drink alcohol, no drugs and lots of exercise, good sleep. I don't do anything crazy and always try to schedule in time for myself, which is really important. Luckily, it doesn't feel like an effort to me."

Even when you're travelling?
"Yeah, it can be more tricky. Living healthily whilst traveling is complicated. The time difference, chaos at airports, the wretched food. Long queues. Stress. It takes its toll on the body. Which is why I need to take even better care of myself when at home. My body has had a lot to endure. I suffer with my lower back, ligaments and shoulders. Through daily yoga, I try to look after my body. Massages help as maintenance, too."

And where are you at mentally with life?
"I turn fifty next year. I realise that I am a privileged person, but like anyone else my age, I'm taking stock: where am I at? Where do I still want to go? What path am I following and which paths would I still like to map out? I'm publishing another book next year, about travel, health and life, and the insights I've gained on each over the past fifty years."

And where are you at mentally with life?
"I turn fifty next year. I realise that I am a privileged person, but like anyone else my age, I'm taking stock: where am I at? Where do I still want to go? What path am I following and which paths would I still like to map out? I'm publishing another book next year, about travel, health and life, and the insights I've gained on each over the past fifty years."

What does a wellness holiday give you?
"I read a lot of books and listen to podcasts on conscious living. I'm currently doing an online course on mental growth for business. But although I live with awareness and try to figure out my thoughts, patterns and emotions, things do drop off during the course of the year with so much going on. I also tend to dwell on things an awful lot. A wellness holiday creates a new reference point. It's a check-in: am I still heading in the right direction? The world is changing fast and keeps on spinning. Being somewhere like Euphoria, I was able to reset. Go back to what's important to me. A moment entirely to myself when I could fully recharge. And refocus on what really matters."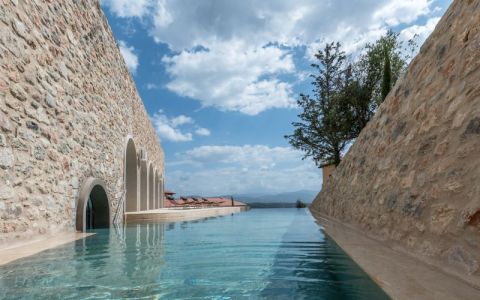 And you can't do that on a normal holiday?
"A normal holiday with family or friends is no comparison really. In fact, I think this is a really good thing to do alone. In life, we're always having to take into consideration our jobs, children and people wanting this and that from us. If you go on a wellness holiday with others, you'll still behave in a socially acceptable way: it's so nice not having to take anyone else into account. Crawling into bed in a luxurious hotel, reading a book without interruption. For example, I ran into one man who found himself in the midst of a relationship crisis he wanted to get out of. He just needed some time to ponder life and figure things out. Taking the time out to do that in a serene setting really helped him. At Euphoria, my mind was still. There was no-one who needed me for anything, no emails, requests or responsibilities."

Which programme did you follow?
"I went for the yoga/meditation package, with one to two treatments a day. It was less intensive than I thought. It leaves you time for yourself to spend however you want. For me, this meant lots of mediating and yoga classes. As well as that, I love nature, and there's a stunning nature reserve surrounding Euphoria that is great for walking. Behind the resort there's a forest, and from there you walk straight into a ravine. You come across a little forest chapel on the way. Hiking fanatics can hike their hearts out here: there are snow-capped mountains, ravines, natural springs and old Greek ruins.

The resort sits on a mountain against a Byzantine ruin that's a UNESCO world heritage site. If you head there out of the resort early enough in the morning, you'll have the whole thing to yourself. And there I was, all alone, among that vast history. Truly magical. It's also close to Sparta – one of the most important cities where notable dignitaries and the clergy convened. To get to know the region better, I hired an affordable car from the hotel. The beach is about 40 minutes by car. Totally doable."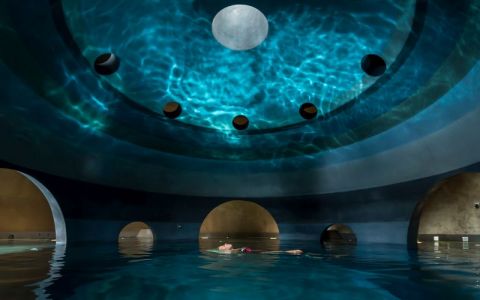 What is special about Euphoria?
"It took the owners eleven years to set up. And it shows. You can feel the dedication and love that's been invested into it. Euphoria is a whole other experience. Many wellness hotels could really be located anywhere in the world. But here, you really feel like you're in Greece - kudos to them!

All of the region's themes are incorporated: the colours, shapes, the philosophy. There are no straight lines – everything is arched. The food is Greek, too. Freshly baked bread with that delicious Greek olive oil. The beauty products are also made using olive oil. Even the patterns on the towels and the clothing of the staff scream Greece. It's clear from the detail and finishing that no expense has been spared. The chairs, for example, are made of olive wood – how cute is that? And there is a small corner with rocking chairs. There is a hot tub open 24 hours a day on the roof, with views of the valley. Everything is of an exceptionally high standard: the restaurant, the friendly staff, the reception and of course, the therapists."

What was the Euphoria spa like?
"I've been spoilt and have seen many a spa in my lifetime. But I've never seen one more beautiful. Unrivalled style, with attention to detail. And the pool is one of the most gorgeous I've ever seen, too. Beautifully lit, and when you dive under the water in that sparkling pool, you hear dolphin noises. My therapist from Athens gave me one of the most heavenly massages ever. She was sooo good. It's an all-over body treatment that engages all the senses. Really intense. Highly recommended."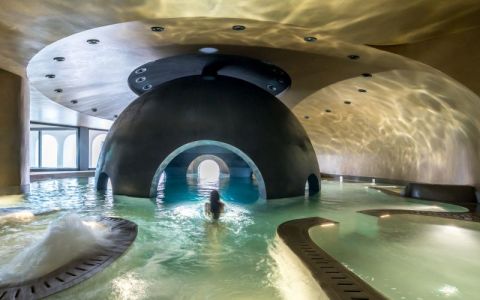 Does Euphoria deserve its place in the Puurenkuur destination bucket list?
"If you can afford it, it really is too good to miss. Euphoria is highly exclusive. It's ridiculously – and surprisingly – relaxed there. I had the spa and pool mostly to myself, and never saw more than four people at once. Whilst I was there, there were probably 30 or so people at the whole resort. Getting massaged and pampered all day does come with a price tag. It's pricey, but what you're paying for is peace and exclusivity. Without an OTT 'look at how rich I am' vibe. It is a young soul, in a centuries-old landscape with old olive trees and a UNESCO site around the corner."

What else stood out?
"I thought it was hilarious how you got a little prick in your finger to test your resilience. Mine could be better. I was given all sorts of recommendations for food to boost my resilience. If you want to, you can get a far more comprehensive test done. I took heed of the advice at meals. All the food is included, but still à la carte, including breakfast. So you can eat what you want and don't need to worry about anything. Which is great, because you always eat more than you want at buffets. The long restaurant opening hours mean that you can eat until late. And you always get lovely rosemary water to accompany your meal; their own speciality. Really yummy."

Was there anything you weren't so keen on?
"If I were to book again, I'd book the anti-stress package. There are group yoga classes and other activities included in all of the programmes. I would also book a separate private yoga lesson. Not that you really need to, because the yoga classes are really quiet, but the individual instruction is really helpful.

In addition, it's useful for people to know that they won't find a really tight group of people who want to do everything together here. Those resorts do exist - Phuket Cleanse is one I've been to, and that's nice too, but very different. This, on the other hand, is really a place for those wanting to just spend some time in their own little bubble. For people needing to reset and wanting peace and quiet in every sense; going about their own business in luxury and privacy. Me-time, as they call it these days."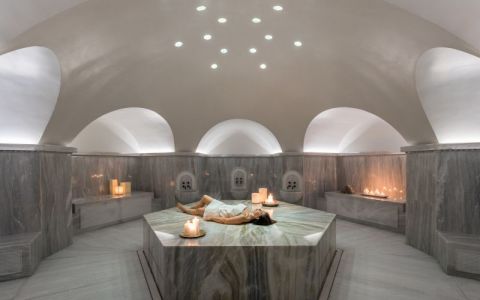 What did you get out of the trip? What will you take home with you… or on your travels, in your case?
"Lots and lots of olive oil. The oil there is nicer because it's fresh. And honey. Behind the resort – on the old road to the mountain pass – there's an old man in his eighties, at least. He sells honey and chestnuts at the highest point on the mountain pass. He even tried to seduce me with an extra bag of apples!

The other thing I've brought with me is the reminder of how incredibly important it is to gift yourself a week like this. Of course, there is an investment involved, but it's just so good for you. I really feel mentally and physically recharged. It was a wonderful reset."
Interested in a trip to Euphoria Retreat? More information about the hotel can be found here.