Discover all our Babymoon Wellbeing holidays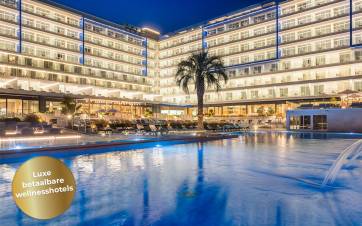 4
L'Azure Hotel, Spain
Beautiful, completely renovated hotel with a beautiful Spa, delicious food and an adults-only rooftop Infinity pool!
7 Reviews
Not found what you were looking for? Please call +31 (0)20 573 03 50 for more info!
What is a babymoon
A babymoon is a holiday where expecting parents enjoy some relaxing time before the arrival of their baby. Spending some quality time together and have some rest and relaxation before their lives are changed by the arrival of their new born baby. The term "babymoon" is a play on the word "honeymoon" and has become more popular in recent years as people recognize the importance of taking time for themselves before the demands of parenting begin. Babymoons can be anything from a weekend getaway to a longer trip and they can be spent relaxing at a beach resort, exploring a new city or relax & unwind in a health & wellbeing resort. It can basically be anything that the parents-to-be like and enjoy. Puurenkuur created some special packages for babyboomers where we include special massages for pregnant women.
What to expect from a healthy babymoon wellbeing holiday
A babymoon in a health resort is a type of vacation that expectant parents take before the birth of their baby. The purpose of a babymoon in a health resort is to relax, de-stress, and focus on the health and well-being of the mother and baby.
A babymoon in a health resort typically involves staying at a resort or spa that specializes in prenatal and postnatal care. These resorts offer a range of services, such as prenatal massages, yoga classes, healthy meals, and other treatments that are designed to promote relaxation and wellness for expectant mothers.

The resort may also offer educational classes or workshops on topics such as childbirth preparation, breastfeeding and baby care. This can be a great opportunity for expectant parents to learn and ask questions about what to expect during and after childbirth.

In addition to the health and wellness benefits, a babymoon in a health resort can also provide a much-needed break for expectant parents before the demands of caring for a new baby set in. It can be a time for them to connect and bond with each other before the arrival of their little one.