Discover all our Snowy Winter Wellbeing Breaks holidays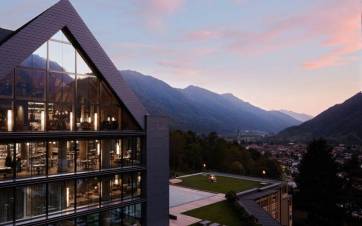 5
Lefay Resort & SPA Dolomiti, Italy
Fully recharge your batteries at an all-new, dazzling Lefay with extensive top spa revolving around energy restoration. Total relaxation, star treatment and world-class service in the Dolomites of the Alps.
6 Reviews
Not found what you were looking for? Please call +31 (0)20 573 03 50 for more info!
A health and wellbeing retreat in the snow can offer unique benefits and experiences that contribute to overall wellness. Here are some reasons why a retreat in the snow can be great for health and wellbeing:
Nature's Serenity: Snow-covered landscapes can provide a serene and tranquil environment that promotes relaxation and stress reduction. The peacefulness of the snowscape, combined with the crisp air and stunning scenery, can help individuals find a sense of calm and mindfulness.

Outdoor Activities: Snowy retreats offer a wide range of outdoor activities that can enhance physical fitness and wellbeing. Activities such as skiing, snowboarding, snowshoeing, ice skating, or winter hiking provide opportunities for exercise, cardiovascular health, and connecting with nature.

Mental Clarity and Focus: Being surrounded by the pristine beauty of snowy landscapes can help clear the mind and improve mental clarity. The calm and tranquil atmosphere can aid in concentration, mindfulness practices, and introspection, allowing individuals to focus on personal growth and self-reflection.

Thermal Wellness: Snow retreats often provide access to thermal wellness activities such as hot springs, saunas, or heated pools. These thermal experiences offer relaxation, muscle tension relief, improved circulation, and can promote overall well-being.

Cozy and Hygge Atmosphere: Snowy retreats often prioritize creating a warm and cozy atmosphere, embracing the concept of hygge. Hygge is a Danish term that embodies a feeling of coziness, comfort, and well-being. Retreats may provide roaring fireplaces, warm blankets, hot beverages, and spa treatments to enhance relaxation and comfort.

Mind-Body Balance: Winter retreats often include activities that foster mind-body balance. Yoga or meditation sessions in snow-covered landscapes can be particularly inspiring and promote a sense of grounding and inner peace.

Digital Detox: Snow retreats in remote locations can provide an opportunity for a digital detox. Disconnecting from technology and immersing oneself in the snowy surroundings allows individuals to disconnect from the fast-paced digital world and reconnect with themselves and nature.

Remember, when planning a health and wellbeing retreat in the snow, it's essential to consider safety measures, appropriate winter clothing and any specific health considerations related to cold weather. Our wellbeing travel experts will advice you with pleasure!