Discover all our Luxury Wellbeing Greece holidays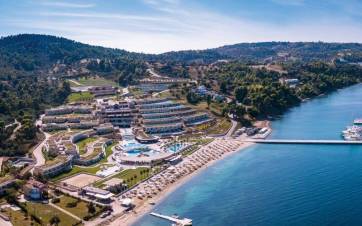 5
Miraggio Thermal Spa Resort, Greece
Experience the pinnacle of relaxation at our modern beachfront resort, where thermal spa and thalassotherapy meet the natural springs of Halkidiki. With a stunning private beach and rich Greek culture, your getaway awaits.
7 Reviews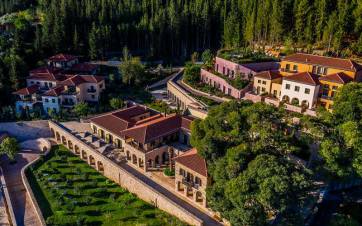 5
Euphoria Retreat, Greece
Discover the harmonious blend of Greek and Chinese wisdom and medicine at a Holistic Destination Spa that promises emotional, physical, and spiritual well-being. Nestled in a majestic and superbly beautiful setting, this spa is a true 'Wow' destination.
23 Reviews
Not found what you were looking for? Please call +31 (0)20 573 03 50 for more info!
Greece is a popular destination for luxury health and wellbeing travel and this is why
Mediterranean Diet: The traditional Greek diet, which is rich in fruits, vegetables, legumes, and olive oil, has been associated with numerous health benefits, including reduced risk of heart disease, cancer, and diabetes.

Natural Scenery: Greece is home to some of the world's most beautiful natural scenery, including crystal-clear waters, sandy beaches, and mountainous landscapes. This provides visitors with the opportunity to engage in physical activities like hiking, swimming, and exploring the outdoors.

Thermal Springs: Greece is also known for its thermal springs, which are believed to have therapeutic properties and can help alleviate a range of health conditions, such as arthritis, asthma, and skin problems.
Mindful Culture: Greece has a long history of philosophical inquiry and spiritual practices, including the concept of "arete" (excellence) in ancient Greek philosophy. This mindful culture creates a supportive environment for yoga and meditation retreats.
Tranquil Environment: Many yoga and meditation retreats in Greece are located in secluded areas away from the hustle and bustle of urban life. This peaceful environment can provide a conducive space for contemplation, relaxation, and spiritual growth.
Community and hospital: Greeks are known for their hospitality and strong sense of community, which can help visitors feel welcomed and connected.
Greece's natural beauty, mindful culture, tranquil environment, experienced instructors, and hospitality make it an excellent destination for yoga and meditation retreats.