Discover all our holidays in Dubai (UAE)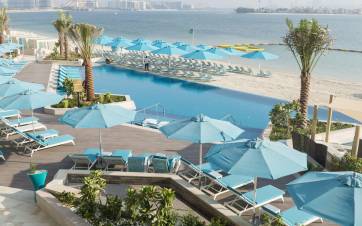 4
The Retreat Palm Dubai, Dubai (UAE)
The very first wellness resort in the Middle East that combines opulence, personal service and relaxation. The Retreat Palm Dubai MGallery is a sanctuary for both mind and body.
7 Reviews
Not found what you were looking for? Please call +31 (0)20 573 03 50 for more info!
The United Arab Emirates (UAE) is a country in Asia that borders Saudi Arabia and Oman. They include seven emirates: Abu Dhabi, Dubai, Sharjah, Ajman, Umm al, Ras al-Khaimah and Fujairah. These small states are rich in oil and that can be felt everywhere. The quality of the hotels is high and opulent, you will find yourself in a wealth of luxury. We found a beautiful five-star hotel located directly on a beautiful beach that offers tradional Ayurveda programs. Doctors and staff, as well as the herbs and the oils have been brought from India. The United Arab Emirates is a perfect destination for all those who would like to experience an authentic ayurveda programme but don't want to travel all the way to India or Sri Lanka.